Powerful filtration system helps to reduce bacteria commonly found in water
Availability: This Item is currently
Unavailable - check back soon.
Regular:

$749.95
Price: $669.95
You Save: $80.00 (11% Off)
View More Info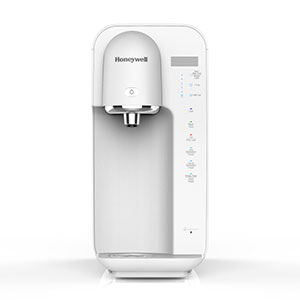 The Honeywell HWP2012B 15-Inch Table Top Water Purifier Dispenser features a digital control panel to access room and cold temperature water with the push of a button. This water purifier dispenser includes a powerful filtration system that greatly reduces the amount of Bacteria commonly found in water (E.coli, Staphylococcus aureus and Pseudomonas aeruginosa), Toxic Metals (lead, copper, chromium, arsenic and others) and Chlorine (taste and odor). The filter of this top water purifier dispenser has been increased to include 317 gallons or approx. 4 months depending on water quality and usage. This tabletop water purifier automatically dispenses a full (250 cc) or half glass (125 cc) of water. Dispense a continuous flow for 60 seconds or simply dispense on demand. A Voice Navigation Guide will provide owners with difficult eyesight a simple means of accessing their water purifier dispenser. Reduce energy output with this unit's inclusion of an Energy Saving Mode. The Honeywell 15-Inch Table Top Water Purifier Dispenser is ETL Certified and comes with a 3-year limited manufacturer's warranty.