Honeywell 7.5 ft. Churchill Pine Pre-Lit Artificial Christmas Tree with 600 Warm White LED Lights
Availability: Sorry, this item has been DISCONTINUED.
You Save: $140.00 (24% Off)
The Churchill Pine Pre-Lit Christmas Tree stands 7.5 ft. tall and features a 56 in. base diameter. Assembling a holiday tree has never been easier. All Honeywell Christmas Trees use a patented One Plug Quick Connect® feature that completely removes the hassle of connecting multiple light strings. You'll no longer have to wrestle with countless light strings to see your tree shine brilliantly. Simply plug in and use the included on/off foot pedal to control the light switch function. Honeywell Christmas Trees are also built with a folding base. This makes the setup and storage process a relatively effortless one.
Brighten & Amaze
Honeywell Christmas Trees come with a tree top connector that's capable of completing the overall decorating theme. You'll also have the luxury of easily plugging in a tree top ornament without the use of an extension cord. The Churchill Pre-Lit Holiday Tree comes with 600 UL-listed LED lights that greatly minimize the setup time of connecting multiple light strings. This also affords you a lot of options to pursue when it comes to decorating your tree with some of your favorite ornaments. Sparkle a festive glow and transform your home into a Christmas wonderland with a brand new Honeywell Pre-Lit Artificial Christmas Tree!
A Safe & Durable Christmas Tree
Honeywell Artificial Christmas Trees have been recognized for safety and sustainability standards. All trees in this selection have been listed as UL certified. The Churchill Pine Pre-Lit Christmas Tree is made of a fire resistant material, enhancing overall peace of mind. Using high quality PVC/PE tips and metal hinges, Honeywell Artificial Trees offer some very low maintenance durability and longevity that can't be matched by living trees. The non-flammable material meshes brilliantly with their flexible and reusable themes.
All Honeywell Trees come with a stand. You're going to want to begin by opening the bracket. Use the supplied screws to fix the bracket firmly into place. This will give you an excellent foundation for your Christmas Tree.
You can now remove the plastic casing from the bottom metal tube. This casing is designed to protect your hands while assembling the Christmas Tree. With the casing removed, insert the metal tube into the hole found in the base of the bracket.
You'll now be able to combine and attach the remaining sections by inserting the trunk into the hole.
For the best shape, you'll want to expand the smaller tips separately.
Setup Tips: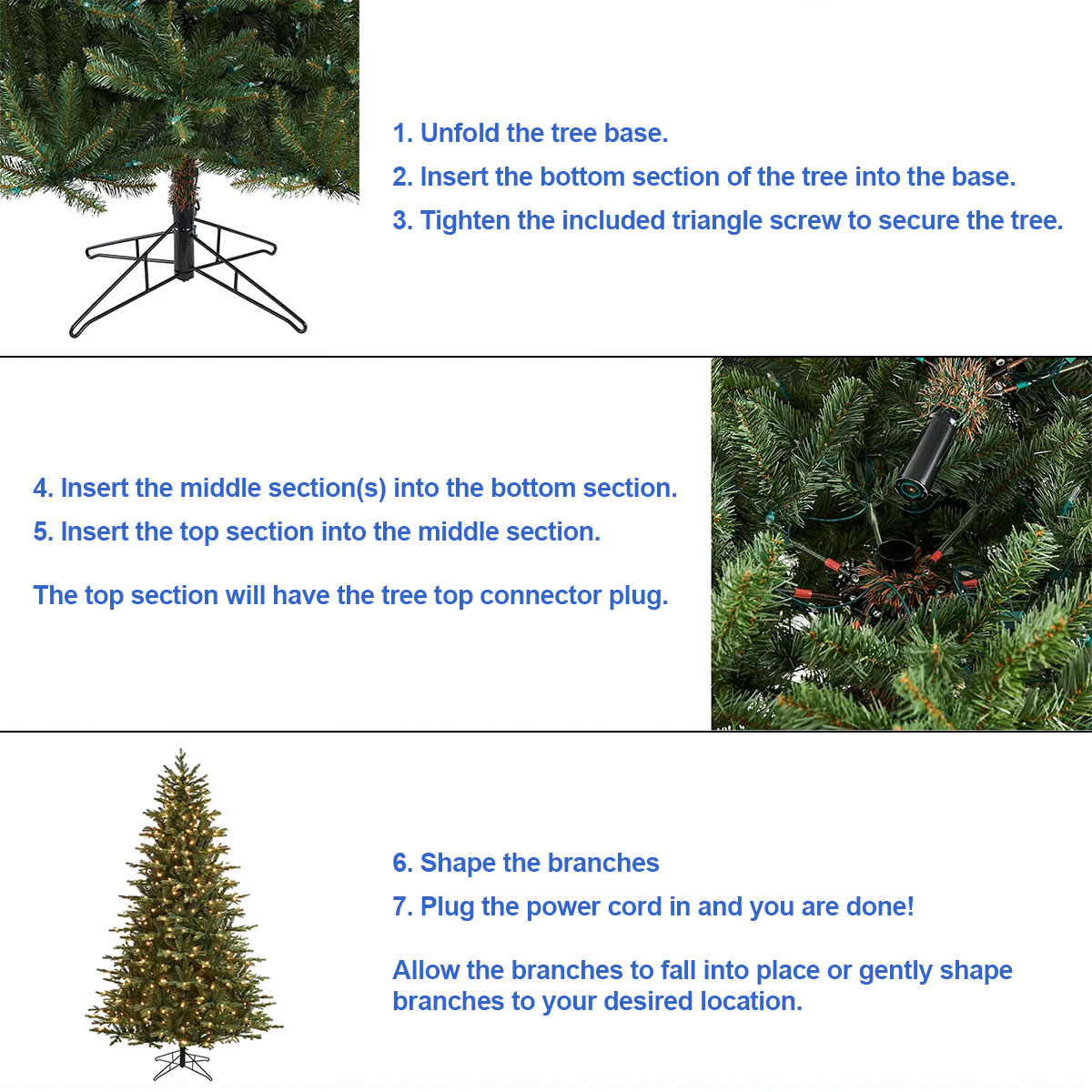 Product Details
Tree Height: 7.5 ft.
Tree Width: 56 in.
Tree Weight: 39.69 lbs.
Color: Green
Material: PVC/PE
Number of Branch Tips: 2850
Number of Lights: 600 Warm White LEDs
Package includes: 1 Honeywell Christmas Tree, 1 tree base, 1 manual and 1 screw
Product Specs
Product Manuals
Honeywell 7.5 ft. Churchill Pine Pre-Lit Artificial Christmas Tree Videos
If you are interested in ordering a large quantity of items you may qualify for volume pricing discounts. Volume Discount Pricing is a great way for customers to save big on large, bulk orders of most items available in our store. Please send a bulk order request to our friendly sales staff so they may create a quote and provide personal service for your order! You will receive a response within 1-2 business days and our office hours are Monday through Friday, 8am-5pm CST.
We make it as easy as possible to ensure you get the lowest prices available:
Let us know what products & the quantities you are interested in.
Get a detailed quote from a dedicated sales rep.
Our warehouse ships directly to you.
You enjoy the savings & are now a preferred customer.
Send A Request Now