Honeywell Sperian Saf-T-Fit Plus P100 Disposable Respirator with exhalation valve, 1-pack - RWS-54020
Availability: Sorry, this item has been DISCONTINUED.
You Save: $6.78 (23% Off)
NIOSH-Approved P100 Protection for home & work applications
99.97% filter efficiency against all particulate aerosols
Humidity-resistant filter media
Exhalation valve for heat reduction and easier breathing
Adjustable nose bridge
Nose clip is color-coded for visible size recognition
Durable suspension straps
Lightweight molded cup design
Non-allergenic, latex-free design
Packaged to maintain integrity of product in work environment
Professional Grade
Meets OSHA, EPA and HUD filtering facepiece requirements for lead exposure
Includes 1 Honeywell Saf-T-Fit P100 Disposable Respirator w/ Exhalation Valve
Product Features
The Honeywell NIOSH-Approved P100 Respirator Mask w/ Exhalation Valve for Airborne Particulates provides 99.97% filter efficiency against all particulate aerosols. This includes work-related irritants like dust, sawdust and airborne allergens. The breathing mask's filter media is designed to resist humidity for comfortable performance in most environments. This P100 disposable mask comes equipped with an exhalation valve that allows hot air to exit the respirator for increased comfort. The two-strap construction allows for quick donning, while the adjustable nose bridge means one size will fit most faces. This face mask is a P class respirator that is NIOSH approved for use with solid and liquid particulates, excluding oils. Each package includes (one) disposable P100 respirator.
Workplace & Home Protection
Airborne irritants can be a hazard at both your home and workplace. This includes dust from work-related activities like grinding, sanding, woodworking, drywalling and masonry, but also simple home tasks like yardwork and sweeping. Honeywell NIOSH-Approved P100 Respirator Masks provide 99.97% filter efficiency against solid and liquid particulates in the air.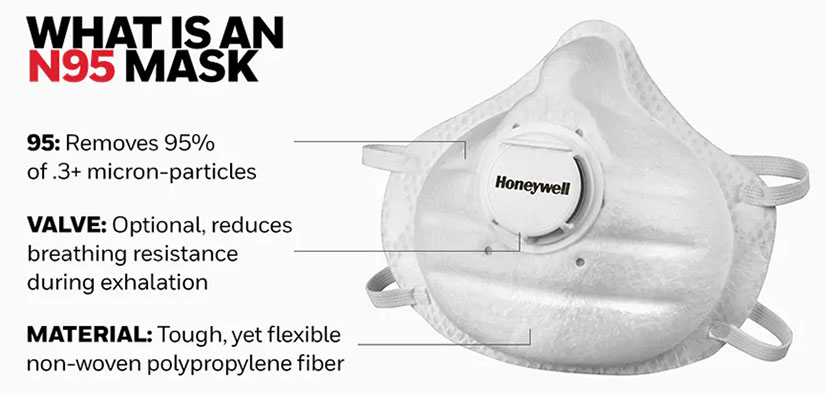 N: This is a Respirator Rating Letter Class. It stands for "Non-Oil" meaning that if no oil-based particulates are present, then you can use the mask in the work environment. Other masks ratings are R (resistant to oil for 8 hours) and P (oil proof).
95: Masks ending in a 95, have a 95 percent efficiency. Masks ending in a 99 have a 99 percent efficiency. Masks ending in 100 are 99.97 percent efficient and that is the same as a HEPA quality filter.
.3 microns: The masks filter out contaminants like dusts, mists and fumes. The minimum size of .3 microns of particulates and large droplets won't pass through the barrier, according to the Centers for Disease Control and Prevention (CDC.)
Material: The filtration material on the mask is an electrostatic non-woven polypropylene fiber.
Valve: Some disposable N95 masks come with an optional exhalation valve. "The presence of an exhalation valve reduces exhalation resistance, which makes it easier to breathe (exhale,)" according to the CDC.
Product Details
Standards : NIOSH Approved
Filtration Type : P100
Mask Type : Molded Cup
Latex Free : Yes
Product Specs
Honeywell Saf-T-Fit Plus P100 Disposable Respirator - RWS-54020 Video
If you are interested in ordering a large quantity of items you may qualify for volume pricing discounts. Volume Discount Pricing is a great way for customers to save big on large, bulk orders of most items available in our store. Please send a bulk order request to our friendly sales staff so they may create a quote and provide personal service for your order! You will receive a response within 1-2 business days and our office hours are Monday through Friday, 8am-5pm CST.
We make it as easy as possible to ensure you get the lowest prices available:
Let us know what products & the quantities you are interested in.
Get a detailed quote from a dedicated sales rep.
Our warehouse ships directly to you.
You enjoy the savings & are now a preferred customer.
Send A Request Now
Honeywell Saf-T-Fit Plus P100 Disposable Respirator - RWS-54020 Reviews
Mr and Mrs V
August 5, 2021
Comfortable PPE
Have been buying Sperian P100 masks from the Honeywell Store for quite some time. As a healthcare provider, I find these to be excellent masks. Only drawback is they are not inexpensive. Applaud Honeywell for being the type of company that values its customers and made PPE accessible for consumers early on during the pandemic unlike competitors like 3M which have only recently began to reintroduce their products into the public marketplace. As a result, Honeywell has earned both my respect and business will no longer buy from 3M and other companies that refused to make PPE available to the public. Having used many brands, IMO Sperian is the best.
Go well p100 mask
Fits great feel very protected
P100 mask
The best disposal mask to protect you from every possible chemical and virus.
Great mask with excellent seal!
Most N95s are hard to fit - they're usually too big, especially for women. However this one provides excellent fit to many different face shapes, both men & women and has passed fit testing. The gasket ensures a proper seal so there is no leakage / gaps between the mask and face. 3m has a similar style, but that one is quite bulky, and hurts the bridge of the nose. Its our #1 go-to mask.
Mr and Mrs V
May 31, 2021
Great Product
Have tried various masks. This is more comfortable than others, And, despite others also having a relief valve, breathing is restrictive. Very happy with this product. Continually buy. Sometimes the added price makes all the difference. Case in point.
Masks fits well, easy to breath.
I can't claim to know if this mask does its technical filtering job use for lead paint abatement work, but it fits well, allows me to breath easily, and after some adjusting allows me to work in my glasses without fogging. I'm depending in the people at Honeywell to ensure it technical performance.
Awesome mask
I ordered these because I work in a school with older students, with no barriers or fresh air. When i tried it on, it was super comfortable. I could definitely breathe easier than with any other mask, which is nice because I have asthma. I plan to use them in high risk situations, even though I am fully vaccinated.
Good Face Mask
Excellent product!
Face Mask!
This mask face is ver comfortable to wear and effective against viruses!
Sperian Mask
I like this mask, just prefer on without the exhalation valve now.