Honeywell QuietSet Whole Room Tower Fan - White, HY-254
Availability: Sorry, this item has been DISCONTINUED.
You Save: $18.00 (25% Off)
Powerful, quiet, whole room cooling.
5 speed levels of quiet control.
Touch button electronic controls.
Oscillation for wide area cooling.
1,2,4 & 8 hour auto shut-off timer.
Remote control with on-product housing.
Carry handle & cord management feature.
Product Features
The Honeywell HY-254 QuietSet Whole Room Tower Fan was designed to release large amounts of cool air into the most spacious of rooms and provide a heightened level of comfort and cooling. This unit comes equipped with an impressive 5 speed levels of quiet control, a touch button electronic panel and a remote control that ensures every user an abundance of flexible options for accessing their HY-254. An auto shut off timer that ranges from 1 to 8 hours has been included and establishes peace of mind by offering even more options to utilize. Incredibly versatile by design, the HY-254 comes with a carry handle that effectively eliminates the hassle of moving your fan from one room to the next.
The Honeywell QuietSet Whole Room Tower Fan was designed to offer you 5 quiet cooling settings. This elegant fan is perfect for any kitchen or living room and features both breeze and oscillation settings. Other key features include a 1-8 hour shut off timer.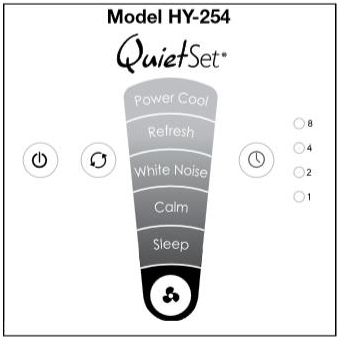 Product Details
Recommended for medium to large rooms
Color: White
Product Dimensions:10.8 x 8.2 x 32.8 in.
Product Weight: 12 lbs.
1 year limited warranty
Product Specs
Product Manuals
Honeywell HY-254 QuietSet Whole Room Tower Fan - White Video
If you are interested in ordering a large quantity of items you may qualify for volume pricing discounts. Volume Discount Pricing is a great way for customers to save big on large, bulk orders of most items available in our store. Please send a bulk order request to our friendly sales staff so they may create a quote and provide personal service for your order! You will receive a response within 1-2 business days and our office hours are Monday through Friday, 8am-5pm CST.
We make it as easy as possible to ensure you get the lowest prices available:
Let us know what products & the quantities you are interested in.
Get a detailed quote from a dedicated sales rep.
Our warehouse ships directly to you.
You enjoy the savings & are now a preferred customer.
Send A Request Now
Honeywell HY-254 QuietSet Whole Room Tower Fan - White Reviews
Lois Wilcox
June 27, 2017
Works really well and it is comfortable at night and not noisy.
Karen Kerchusky
July 26, 2016
Very quiet!
Small footprint but height really gets the air flowing. Very quiet and great feature with remote. Definitely recommend.
Mark Matsuo
April 4, 2016
QuietSet
It's very quiet in a large room setting. It's simple to setup and place to cool down a medium to large room.
Great Fan
I'd been looking for a floor fan to help keep the family room cool during the summer without having to turn the a/c on before noon. Our neighbor had received the smaller model for a gift and he loves his. I couldn't find Honeywell in the stores so I'd bought an inferior brand at Costco and returned it the next day. Our dog wouldn't stay in the same room with that noisy fan. The Honeywell fan has 5 speeds and even on the highest speed it's not disruptive. It really does keep the room much cooler and is much quieter than any other fan we've used. I like the remote control, as well. I definitely recommend this product and will buy more when needed.
RobertaS
February 28, 2014
Wonderful Fan
I just love this fan. It is easy to operate, dependable, quiet, cools wonderfully. I cannot say enough about it. Its the best fan I have ever had. Its nice to have a remote, but this one is about the only thing I dont like about the fan. Sometimes it requires a number of impressions before it changes cycles & it is really awkward to handle.