Honeywell True HEPA Allergen Reducer & Germ Fighting Air Purifier, Round Design, 50150-N
Availability: Sorry, this item has been DISCONTINUED.
You Save: $10.00 (6% Off)
Honeywell is the #1 recommended air purifier brand by Allergists
Helps capture up to 99.97% of microscopic allergens, 0.3 microns and larger, from the air that passes through the filter
SurroundSeal Technology helps minimize air leaks and ensure that the air passes through the filter.
Activated Caron Pre-filter helps reduce odors
Intelli-Check electronic filter indicator reminds you when to clean the HEPA filter & when to change the pre-filter
Includes Long Lasting HEPA Filter that can be cleaned.
50150-N requires pre-filter HRF-AP1 and True HEPA filter HRF-F1 (2 Required) or HEPA Filter 21500.
It is recommended that the 50150-N's HEPA pre-filter be replaced every three months
Product Features
The Honeywell True HEPA air purifier offers 3 powerful cleaning levels and can help reduce the amount of odors and airborne particles in large rooms. Its long-life True HEPA filter captures up to 99.97% of particles as small as 0.3 microns (250x smaller than the width of a human hair) and typically only has to be replaced every three to five years. This powerful model effectively captures particles such as dust, tobacco smoke, pet dander and pollen from the air that passes through the filter. It also helps capture certain airborne germs such as bacteria and virus. The 50150 has a 360 degree air intake for maximum efficiency and features a carbon pre-filter that prolongs the filter life by removing large particles before they can enter the HEPA filter and helps reduce common odors. The HEPA filter for the 50150-N has a lifespan of one to five five years, while the pre-filter features a three month duration.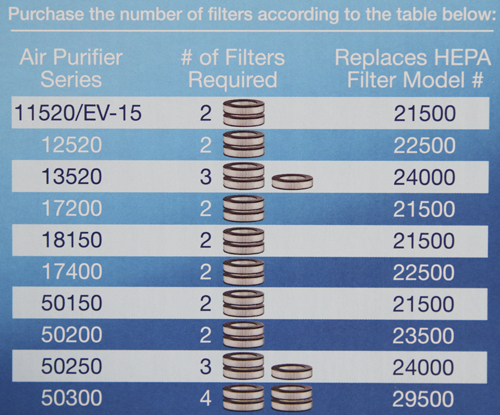 Product Details
This Air Purifier has been AHAM certified for use in rooms up to 235 square feet
The CADR indicates the volume of filtered air delivered by an air cleaner. The higher the tobacco smoke, pollen and dust numbers, the faster the unit filters the air.
Tobacco Smoke: 150
Dust: 150
Pollen: 150
Color: White
Uses pre-filter HRF-AP1.
Uses True HEPA filter HRF-F1 (Two Required) or filter 21500 (1 Required)
5 year warranty
Product Size (LxWxH): 18.03 x 18.03 x 15.12
Product Specs
Product Manuals
Honeywell True HEPA Allergen Reducer & Germ Fighting Air Purifier, 50150 Video
If you are interested in ordering a large quantity of items you may qualify for volume pricing discounts. Volume Discount Pricing is a great way for customers to save big on large, bulk orders of most items available in our store. Please send a bulk order request to our friendly sales staff so they may create a quote and provide personal service for your order! You will receive a response within 1-2 business days and our office hours are Monday through Friday, 8am-5pm CST.
We make it as easy as possible to ensure you get the lowest prices available:
Let us know what products & the quantities you are interested in.
Get a detailed quote from a dedicated sales rep.
Our warehouse ships directly to you.
You enjoy the savings & are now a preferred customer.
Send A Request Now
Honeywell True HEPA Allergen Reducer & Germ Fighting Air Purifier, 50150 Reviews
I am satisfied, very good product.
Dale Gordon
June 14, 2016
Honeywell true Hepa works
This is my long time favorite air filter machine. I have used this model in my home and classroom to keep the air clean - It works!
Jennifer Matthews
May 28, 2015
Love this air purifier
This is the second one of these air purifiers I have purchased for my home. I have one downstairs and one upstairs. We have two dogs and this really helps with my husband and daughters allergies.
Regina Hillard
September 17, 2014
love it
I have used these for alot of years wouldnt or I should say I wont use anything else.I have gotten one for my sister and my friends have gotten them also.Keep up the great work may the Lord bless you
Angela Weber
July 29, 2014
nice size, works well
Regina Hillard
June 25, 2014
Love It
I have been using this for the last 10 years now the first time I use it I thought my husband died on me because he was sleepin so good I tell everyone Honeywell is the one to get I just got one for my sister and she loves it. Thanks God Bless
Santos Rodriguez
June 11, 2014
No more Allergy Medications
I have four of these...no more Allergy meds for me or my wife.
Dawn Cotter
December 2, 2013
Very Good.
Paul Courteau
September 4, 2013
Excellent product. This is the third type/size of HEPA filter I have purchased from Honeywell for home and office. They are excellent at mitigating wildfire smoke.
Debra  Mathur
May 14, 2013
Problematic
I had bought this exact same model earlier this year, and it works perfectly and am I very happy with it. However, I bought a second unit, same model, also from Honeywell, direct from company, and it is NOT working well. It vibrates badly at high speed setting. I am returning this unit for a replacement product. Hopefully that will work well, and I will not lose money on this transaction. However I am told that if Honeywell testers do not find something wrong with the unit I am returning, they will charge me shipping fees AND restocking fees. I am not pleased with that policy, as the fate of my monies related to this unit fall under the discretion of testers whom I will never speak with. I will reserve judgment until I receive new unit and testing of old is complete. On the positive side, Customer Service has been EXTREMELY polite and EXTREMELY fast acting. Very impressive.