Honeywell Sperian Saf-T-Fit Plus N95 Disposable Respirator with exhalation valve, 10 per box - RWS-54007
Availability: Sorry, this item has been DISCONTINUED.
You Save: $11.63 (23% Off)
NIOSH-Approved N95 Protection for home & work applications
95% filter efficiency against solid and liquid particulates, excluding oils
Humidity-resistant filter media
Adjustable nose bridge
Nose clip is color-coded for visible size recognition
Durable suspension straps
Lightweight molded cup design
Non-allergenic, latex-free design
Packaged to maintain integrity of product in work environment
Professional Grade
Includes 10 Honeywell Saf-T-Fit N95 Disposable Respirator w/ Exhalation Valve
Product Features
The Honeywell NIOSH-Approved N95 Respirator Mask w/ Exhalation Valve for Airborne Particulates provides 95% filter efficiency against solid and liquid particulates in the air (excluding oils). This includes work-related irritants like dust, sawdust and airborne allergens. N95 masks feature a latex-free filter media for lower breathing resistance. The breathing mask's filter media is designed to resist humidity for comfortable performance in most environments. This N95 disposable mask comes equipped with an exhalation valve that allows hot air to exit the respirator for increased comfort. The two-strap construction allows for quick donning, while the adjustable nose bridge means one size will fit most faces. This face mask is an N class respirator that is NIOSH approved for use with solid and liquid particulates, excluding oils. Each package includes (ten) disposable N95 respirators.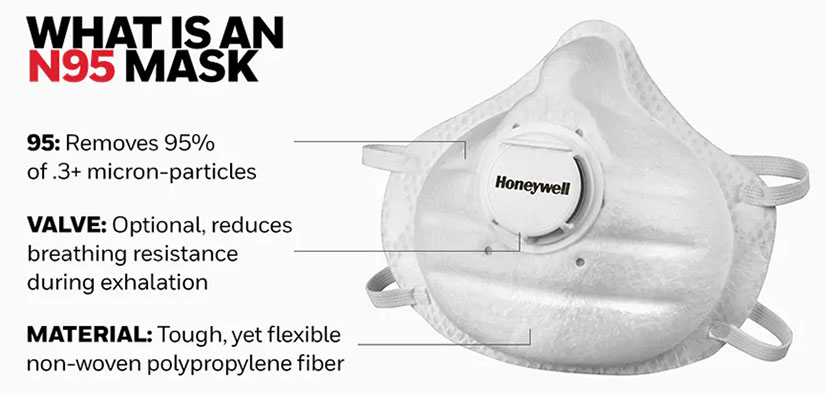 N: This is a Respirator Rating Letter Class. It stands for "Non-Oil" meaning that if no oil-based particulates are present, then you can use the mask in the work environment. Other masks ratings are R (resistant to oil for 8 hours) and P (oil proof).
95: Masks ending in a 95, have a 95 percent efficiency. Masks ending in a 99 have a 99 percent efficiency. Masks ending in 100 are 99.97 percent efficient and that is the same as a HEPA quality filter.
.3 microns: The masks filter out contaminants like dusts, mists and fumes. The minimum size of .3 microns of particulates and large droplets won't pass through the barrier, according to the Centers for Disease Control and Prevention (CDC.)
Material: The filtration material on the mask is an electrostatic non-woven polypropylene fiber.
Valve: Some disposable N95 masks come with an optional exhalation valve. "The presence of an exhalation valve reduces exhalation resistance, which makes it easier to breathe (exhale,)" according to the CDC.
Product Details
Standards : NIOSH Approved
Filtration Type : N95
Mask Type : Molded Cup
Latex Free : Yes
Product Specs
Honeywell Saf-T-Fit Plus N95 Disposable Respirator, 10 per box - RWS-54007 Video
If you are interested in ordering a large quantity of items you may qualify for volume pricing discounts. Volume Discount Pricing is a great way for customers to save big on large, bulk orders of most items available in our store. Please send a bulk order request to our friendly sales staff so they may create a quote and provide personal service for your order! You will receive a response within 1-2 business days and our office hours are Monday through Friday, 8am-5pm CST.
We make it as easy as possible to ensure you get the lowest prices available:
Let us know what products & the quantities you are interested in.
Get a detailed quote from a dedicated sales rep.
Our warehouse ships directly to you.
You enjoy the savings & are now a preferred customer.
Send A Request Now
Honeywell Saf-T-Fit Plus N95 Disposable Respirator, 10 per box - RWS-54007 Reviews
Ken Howard
September 14, 2021
TO Comfortable Protection
I have this mask, I am a doctor, and as for what Comfortable Protection has to say, he/she is flat wrong. You do NOT need to wear a mask over this mask at any time. Check Out CDC PPE website. N95 w/exhalation valves protects the wearer and those around the wearer just fine.
Comfortable Protection
Very comfortable, secure fit. Because of the exhalation valve, it is best to wear a lightweight cloth mask on top of this mask when used for virus protection.
Excellent solution
Extremely comfortable. Truly invaluable when crowds are unavoidable. Note: Because of he exhalation valve, this item is best worn with a cloth mask on top for maximum protection of both the user and those surrounding.
Recommend
Works well and comfortable.
Viktoria Khodes
March 4, 2021
great product!
great product! this is what we need now
Bechara Damouni
March 3, 2021
The COVID19 Life safer
I'm glad I had a chance purchasing this authentic real N95 masks. Thank you.
Sierra Forney
March 2, 2021
Great product
THANK YOU HONEYWELL!! Other N95 companies wont let you order directly from them and with stores constantly sold put or charging crazy prices thank you honeyqell for allowing us to buy directly knowing were getting real masks. Love the nose clip to help get a better fit
Ralph Goldstraw
March 2, 2021
Works well
Great
Michael Allen
February 19, 2021
No Counterfeits Here
Fast Ship and arrived just in time to replenish my depleted stock. Highly recommend & will order again! Thank you Honeywell for stepping up and helping Americans breathe a little easier.
Leesa Mo
February 19, 2021
Real Mask Good Product
My family is pleased to finally have access to quality masks, particularly during the time of the pandemic. Worth the money!